Thank you for visiting the tarock.net card store!
Ordering cards is secure and easy. We ship your cards the next business day!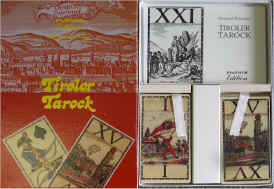 Piatnik Tiroler Tarock Gift Set
[Reproduction of original deck circa 1815 on display at Tiroler Landesmuseum Ferdinadeum] 105 x 58 mm back design of deck
(This deck is a 78 card deck with Roman Numerals on the tarocks. It can be used for 54-card tarock games.) Box size is 9"x6"x1"
$49.99